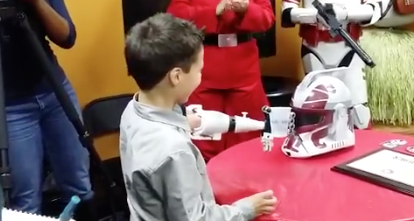 Bioprinted Prosthetic Arm A Surprise To 7 Year Old Boy
Porter, who was born without part of his left arm, had a traditional prosthetic before, but it wasn't necessarily functional.
"It didn't really move," his mom Ryan told the The Augusta Chronicle said. "So to a little kid, it was nothing but dead weight. He did a lot without it."
John Peterson created the arm for Porter with the help of e-NABLE, an online community of people who work together to create prosthetics for those in need using 3D printers. The new arm that Porter got was the result of a collaboration between a prop maker in Washington and a carpenter in South Africa, according to People.
Designs created from plastic in an open source process keeps the price of prosthetics low. Porter's arm only cost $300 (compared to a typical $9,000 prosthetic) and took about three months to make, Peterson said.