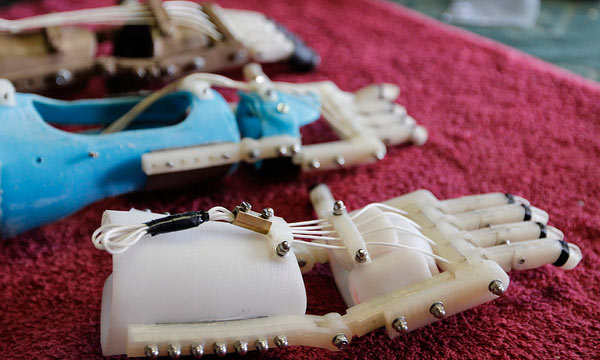 Robohand: Making an Impact with 3D Printed Prosthetics
One's childhood is a time filled with endless adventures and discovery. Most of us spent our childhoods collecting and compiling small structures out of Lego's, hanging from the monkey bars on the playground, or painting fingernails various colors depending on the time of the year.
Imagine being a four-year-old child, born without fingers or one of your hands. To some young toddlers their lack of fingers or hand may leave them feeling 'different' or limited physically.
The people at Robohand are working hard to bridge that gap and implement fully functional mechanical hands at a reasonable price to anyone, regardless of age, who may desire one through their non-profit, the Robohand Project.
The objective at Robohand is to develop open-source designs for mechanical finger prosthetics. With the help of 3D printing pioneers, Makerbot, donating two Replicator 2 desktop printers to the cause, the Robohand Project has now helped over 170 people with movable, plastic fingers held together by cables and screws.
Curious as to how much a mechanical, replacement hand like this might cost? Reasonably priced at roughly $500 in materials, that is price that most wouldn't think twice about for this life changing technology. The designs are even posted on the internet without any patents, allowing access to the designs for anyone who may need them, free of charge.
Richard, one of the creators of the Robohand hand concept, stated that "he never wanted to make money from other peoples misery so the idea never was going to be patented,". Richard himself can relate, as he had his fingers cut off in an accident and from that moment on the wheels were in motion for the Robohand Project.
Check out the video below to see one of the creators of Robohand, Richard, share his own personal story for creating this idea as well as some personal stories of lives that they have touched through the project. Some of the parents talked to have continuously looked high and low for "anything to try and make Liam's life easier," and it strikes a lot of emotions when another parent proclaim "seeing my boy happy, makes me happy," after a life altering adjustment like this.