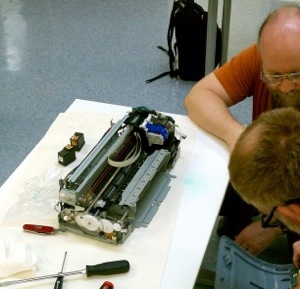 Bioprinters That People Make at Home – Home BioPrinting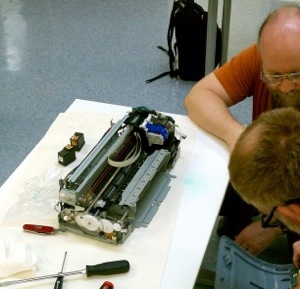 We started out by messing around with an old inkjet printer that we literally saved from a sidewalk somewhere. There's already plenty of interesting things you can do with an low-end off-the-shelf inkjet printer, but they do have some limitations, which we'll get into in the next Step (or skip straight to Step 3 for how we built our own bioprinter from scratch, that you can see in the first picture above).
Undressing the Printer
We disassembled an abandoned HP 5150 inkjet printer for use as a bioprinter. Just rip off all the plastic covers you can find, but make sure you can still operate the reset buttons etc. on the front panel.
There's a little momentary switch that senses whether the cover is open. After you've ripped off the cover, you will need to close that switch to be able to print anything. You can just press it down by hand or with a toothpick, glue a little piece of plastic or a screw onto it to make it easier to depress, solder on an on/off switch, or even just bridge it with a piece of wire (so it thinks the cover is always closed).
There's also a momentary switch inside the paper handling mechanism that senses whether paper has been loaded. You may need to rewire that one as well is you plan to mess with the paper handling.
Once you've got your printer all undressed, and figured out how to activate the cover-closed switch – print something! It'll be a good test to see if you've knocked something loose and whether you can still operate all the buttons. Plus, it's just darn cool to see an inkjet printer do its job up-close. Keep your fingers out of the way though – those cartridges move fast!